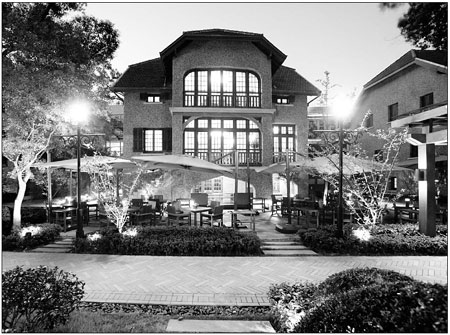 Sinan Mansions, once home to Shanghai's most powerful and wealthy families, is now converted to an entertainment center for the hoi polloi. Provided to China Daily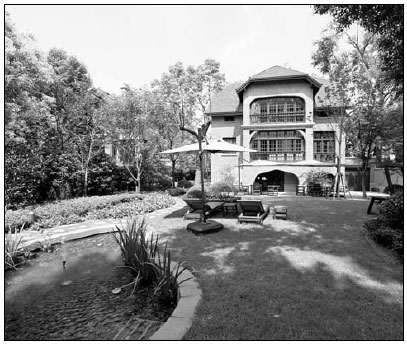 A garden mansion in the complex currently houses a French restaurant.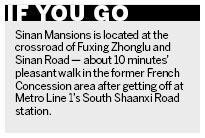 Shanghai
The lights of old Shanghai come to life once more in a new complex full of ancient villas. Shi Yingying pays a visit.
You'll find a private gallery exhibiting a collection of vintage Johnny Walker bottles, plus boutique bars and classy restaurants (such as Boxing Cat Brewery) and celebrity chef David Laris' new creation 12 Chairs all in one complex.
Thanks to its special location and ancient architecture, Sinan manages to be more than just another Xintiandi. Just a stone's throw away from New China's first premier Zhou Enlai's former residence (now a museum commemorating the history of the Communist Party in Shanghai), the complex injects new life into these almost century-old mansions.
It takes its name from Sinan Road, a beautiful French Concession avenue lined by old trees and equally spectacular pre-war villas.
"They represent all kinds of different architectural styles," says Lu Yongfeng, managing director of Sinan Mansions. "After talking to a few Shanghai architects, I've realized you can find almost every possible style here except the stone-lintel houses."
Looking at the townhouses, garden mansions and modernized linong (lanes and alleys), you may not realize that many well-known people had lived here - such as Sun Yat-sen and opera master Mei Lanfang.
"We don't want to transform a large swath of the French Concession neighborhood scarred by 90 years of neglect into a gleaming tribute to wealth," says Lu.
"The heritage belongs to everybody in town," says Lu ,and that was the main reason his company started to work with the local government on the project in 2000.
The villas fell on hard times during Shanghai's war years, and many of them were subdivided into smaller apartments.
Up until 10 years ago, many remained dilapidated, with courtyards dedicated to lines of laundry and becoming graveyards for old bicycles. The glorious dining rooms became home to entire families.
"We figured each of the villas housed at least 15 to 17 people, which does no good at all for these buildings. That's why we relocated at least 1,000 people for the project."
For anyone wishing to experience the Sinan Mansions, Hotel Massenet is an excellent start. It charges 36,000 yuan per night, but the 14 individual mansions come with personal butler, garden and garage, several suites, mahjong rooms and even in-house massage.
Early spring is the perfect time to tour the area as hundred-year old peach blossoms and magnolia bloom in profusion. If your wallet is more limited, there is always a night out at the complex's many restaurants, bars and galleries.
(China Daily 04/10/2011 page15)